This article is a stub. You can help the Shadow of Mordor Test Wiki by expanding it.
Acharn
is the dagger used by
Talion
in
Middle-earth: Shadow of Mordor
. As with Talion's other weapons,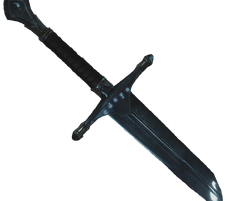 Acharn can be upgraded using
runes
, giving it unique bonuses that allow for more efficient use during battle.
Acharn is actually the shattered sword of Talion's son, Dirhael.
Acharn means Vengeance in the Elven language Sindarin.
Ad blocker interference detected!
Wikia is a free-to-use site that makes money from advertising. We have a modified experience for viewers using ad blockers

Wikia is not accessible if you've made further modifications. Remove the custom ad blocker rule(s) and the page will load as expected.